I'm Stacey Morrison, the shutterbug behind the lens of Happy Tails Pet Photography. I'm based in Burlington, Ontario, where I live with my family, which includes a ball-obsessed golden retriever, Chloe, and bossypants tuxedo cat Julie (aka Kitty).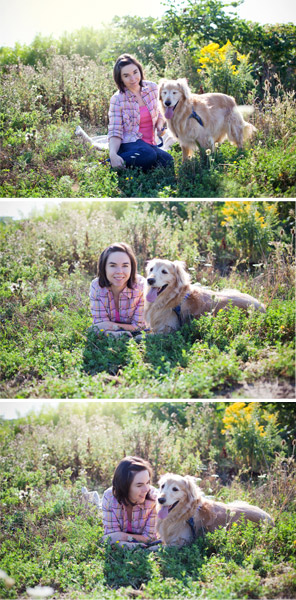 It may be stating the obvious, but I am a huge animal lover. How do I know this? A 15-minute walk turns into an hour because I stop to pet every dog I come across. I don't mind nose prints on my car windows or slobber on my freshly-laundered jeans. And I'm happiest when I wake up to find the dog AND cat hogging the bed.
I don't think a home is complete until it has been filled with the joys and adventures of pet ownership.
Because of the special place they hold in our hearts, it is so important to cherish our pets and their unique personalities while we have the chance. Photographs are a great way to do this, and I love providing people with keepsakes of their dog or cat that will last a lifetime.
Learn more about my photography sessions and rates. Or just click here to book a session!
A few more things about me:
I love breakfast and I'm a big fan of breakfast for dinner (aka "brinner).
My weakness is potato chips. We have a no-potato-chips rule in our house so I can't eat them.
I love my husband because he knows exactly when to break the no-potato-chips rule.
I'm a mom to a rambunctious, stubborn, hilarious five-year-old.
My high school girlfriends are still my nearest and dearest friends.
Polka dots make me smile.
I wear my heart on my sleeve.
I love greeting cards — the punnier the better!
MEET THE HAPPY TAILS TEAM!